| NEWSLETTER IMPALA - Edition 01 - JUNE 2019


Newsletter
---
Dear colleagues:
The main objective of the first edition of this newsletter is to share with you the beginnings of this project, which is relevant for Latin-American universities, the progress in these ten months of work and what the future will bring.

This biannual newsletter has five sections which will allow you to see firsthand what the project is about, how it has been developed, other important highlights, and all that will follow. Likewise, you can find additional information of interest related to this in the website impalaproject.eu

We hope you get in contact with us and follow closely this joint growth from the development of the IMPALA project.
Marcela del Campo
Coordinator of the IMPALA project, Catholic University of Colombia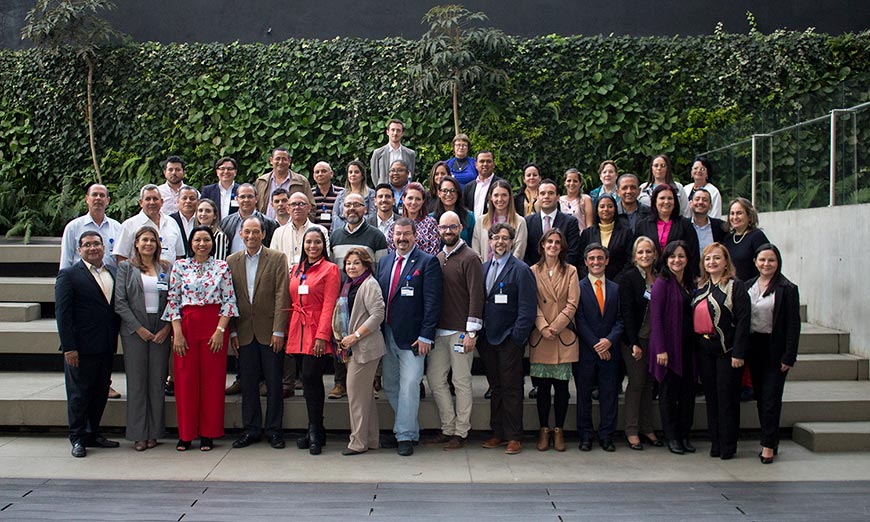 Delegates of IMPALA, in the workshop: "Understanding the impact of quality assurance in higher education institutions"
IMPALA Project Begins
From February 11th to 15th 2019, the Catholic University of Colombia hosted the official presentation of IMPALA, Strengthening IMPACT of Latin American universities, Erasmus+ project, which seeks to strengthen abilities in impact and quality in extension of Latin American universities with new methodologies developed by the European partner universities of the project.
---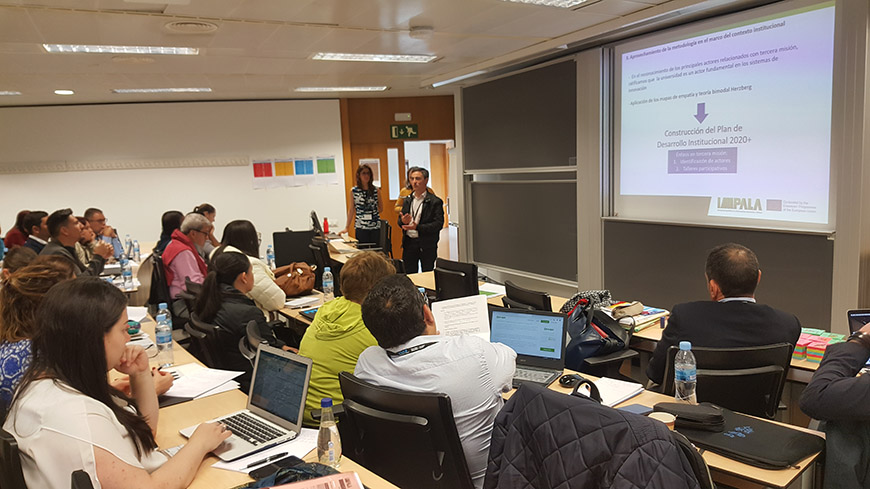 Participants during the workshop: "Impact Evaluation and its Integration in the Quality Control System in HEI"
ESADE Business School developed the second IMPALA workshop
More than 50 representatives of Latin American institutions were present at this second meeting of the IMPALA ERASMUS + project. On this occasion the workshop was given by Christophe Terrasse of the EFMD and Josep Sayeras of ESADE Business School.
Seminar: Training for the faculty members on the practical application of IAF
Dates: November 25, 26 and 27, 2019
Place: University of Holguín-Cuba
Coordination meeting:
Dates: November 28, 29, 2019
Place: University of Holguín-Cuba
Seminar:Training for the ministry/regulatory bodies and HEI top managers on the practical application of IAF
Dates: March 4, 5 and 6, 2020
Place: Nova School of Business and Economics (NOVA) - Lisboa Portugal
IMPALA in practice
---

ASCOLFA Introduced IMPALA
The Colombian Association of Administration Faculties in Bogota-Colombia introduced the project IMPALA to more than 100 members of ASCOLFA, among deans and directors of Administration Faculties and Business Schools.
In development
---

¿What is IMPALA and what is the importance of the project?
During 3 years, 19 universities will work on the IMPALA project, Strengthening IMPACT of Latin American universities, Erasmus + project, all of which aim to strengthen the impact and quality in the extension of Latin American universities with methodologies developed by higher education institutions partnered in the project.
TO HIGHLIGHT
---

Objectives of IMPALA:
Design and implement a quality reference (framework, tools, methodology) for impact evaluation, to complement the current quality control mechanisms of universities in Colombia, Cuba and Panama.
Provide the HEI with the skills to apply this quality reference to their situation. Upper management evaluates the impact of its institution and adapts its strategic planning.
Catholic University of Colombia © all rights reserved 2018

To cancel your subscription, click here

This email was sent through MasterBase® ST for Catholic University of Colombia

Av. Caracas # 46 - 72 / Phone. 3 27 73 00